reposted & updated from 2010
HOLY INNOCENTS
Martyrs
Within the Octave of Christmas
DOUBLE, SECOND CLASS / PURPLE
There is mixed joy and sorrow in the feast of the innocent victims of the first persecution. The Church rejoices at the spiritual victory of the young witnesses to Christ. The purple vestments of the Mass denote the Church's common grief with the mothers of Bethlehem, who saw their babies massacred by the jealousy of Herod.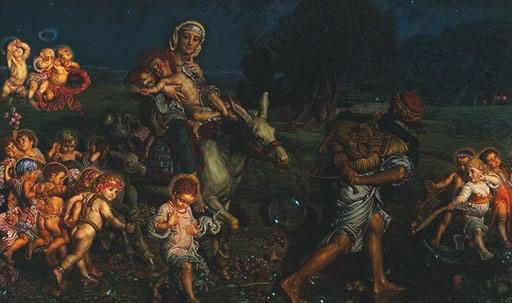 While it is easy to get lost in the nightmare of what happened to the Innocents, it's to be remembered that they ultimately triumphed! They are Saints of God, as this painting by William Holman Hunt shows. The Innocents are seen with the Holy Family, in spirit, during the Family's Flight to Egypt. ~ Fisheaters
RESOURCES:
Let us pray. O Lord Jesus Christ, once You embraced and placed Your hands upon the little children who came to You, and said: "Suffer the little children to come unto Me, and forbid them not, for theirs is the kingdom of heaven, and their angels always see the face of my Father!" Look now with fatherly eyes on the innocence of these children and their parents' devotion, and bless them this day through our ministry. (The father signs the forehead of each child with the sign of the cross.) In Your grace and goodness let them advance continually, longing for You, loving You, fearing You, keeping Your commandments. Then they will surely come to their destined home, through You, Savior of the world. Who lives and reigns forever and ever. ~ Blessing of Children on Holy Innocents

~~~
May God bless you, and may He be the Guardian of your heart and mind —  In nomine Patris et Filii et Spiritus Sancti. Amen.